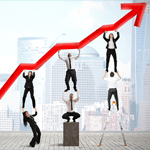 Author: Nikolay Bulava, CEO
We already covered the topic of quick analysis of the situation in SugarCRM. Today, we are going to tell you how to optimize team selling with the help of TimeLine Viewer.
So, let's say that you saw an important deal pass from Open to On hold status and Ron Peters, the person in charge of the deal, left a comment saying that the customer needs to thoroughly evaluate the economic effect from the cooperation, so they decided to take a break to make a decision.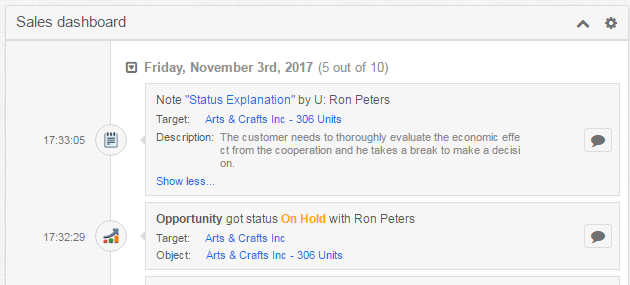 Since Ron has never experienced such a situation, you want to give him recommendations on what to do so as not to lose the deal.
It's simple: just click the Comment

button from the TimeLine Viewer module or dashlet.
In the data entry line, type @[colleague's name] and text of your recommendation. For example: "@Ron Peters suggest #Jon Jonson to have a look at #KB_article_ROI-calculation. As a template, take my e-mail https://sugar.company.com/emailurl. Also talk to @Sarah Smith, who successfully coped with a similar issue with another customer.
As you can see you have the ability to:
Indicate the name of the receiver using @. There can be several names like that. Every user will get a message that his or her name was mentioned in the message.
Mention CRM system objects, using #, if you find these objects noteworthy for understanding the essence of your message. You can have a few links like that, but to ensure this feature works you need to set up Elastic Search. It's useful to give the links to web-site articles, elements of SugarCRM knowledge database with templates and marketing materials. It can be also handy to provide the links to Leads, Opportunities and Cases, which can help your colleague to handle the task quickly.
Insert URLs of other objects in the local and global network, such as articles, study materials, analytical agencies materials etc.
Once the text is ready, click Post. That's it!
As soon as your message is posted, all concerned parties (in our case Ron Peters and Sarah Smith) will get the notification

in the SugarCRM notification area, such as: Nikolay Bulava mentioned you in a TLV comment.
Ron and Sarah can go to the event directly from the notification area:



Ron will read the details and save his time and energy. Having seen that Ron needs some help, Sarah can join the teamwork.
If Ron wants to ask for a clarification, he only needs to use Reply on Comments subpanel under the event.
For example: "@Nikolay Bulava , can you advise on how to write better to CEO #Carl Rosenberg?"
Now I will get the notification, and Ron and I can discuss any issues Ron might have. Sarah also decides to share her experience and add her comment to the thread:
"@Ron look at the history of my deal #Air Safety Inc – 242 Units"
Although Sarah didn't mention my name, I will get the notification as the participant of the discussion thread: Sarah Smith added a new post to a TLV conversation you participated in.
As you can see TimeLine Viewer helps not only to quickly analyze the situation but also to involve the capacities of the whole team to boost the efficiency of each team member and the team as a whole.
Analogous to #Slack, everyone who has access to the event thread on the customer and the deal records will see the communication and can either provide some assistance or get useful advice for their own work.
Decided to try TimeLine Viewer? Leave us a request and we'll be happy to give you access to the demo-environment.
WEBINAR: How Salespeople Can Work in SugarCRM Faster and Easier
Learn how to move key business data at your fingertips and improve efficiency of your daily work with TimeLine Viewer
Watch the Webinar
---
Other articles from "SugarCRM tips" series: