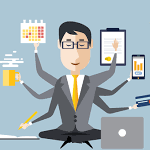 Author: Nikolay Bulava, CEO
Time is the most valuable resource that we have. We cannot buy, rent or steal time that is why we have to save our time.
This article continues series of tips on how you can save your time with TimeLine Viewer, an add-on for SugarCRM. Today we are going to tell how managers can make operational decisions faster.
It is evident that for managing any functional area (marketing, sales, service, account management, product management) it is necessary to track a wide range of events and parameters on multiple objects of the CRM system.
Let us take sales management as an example. Sales managers, at least, must track all-important events by their Accounts, Contacts, Leads, Opportunities and RLI.
TimeLine Viewer improves SugarCRM capability to aggregate information from different modules in one informative stream and makes all the power of SugarCRM dashboards available for decision-making.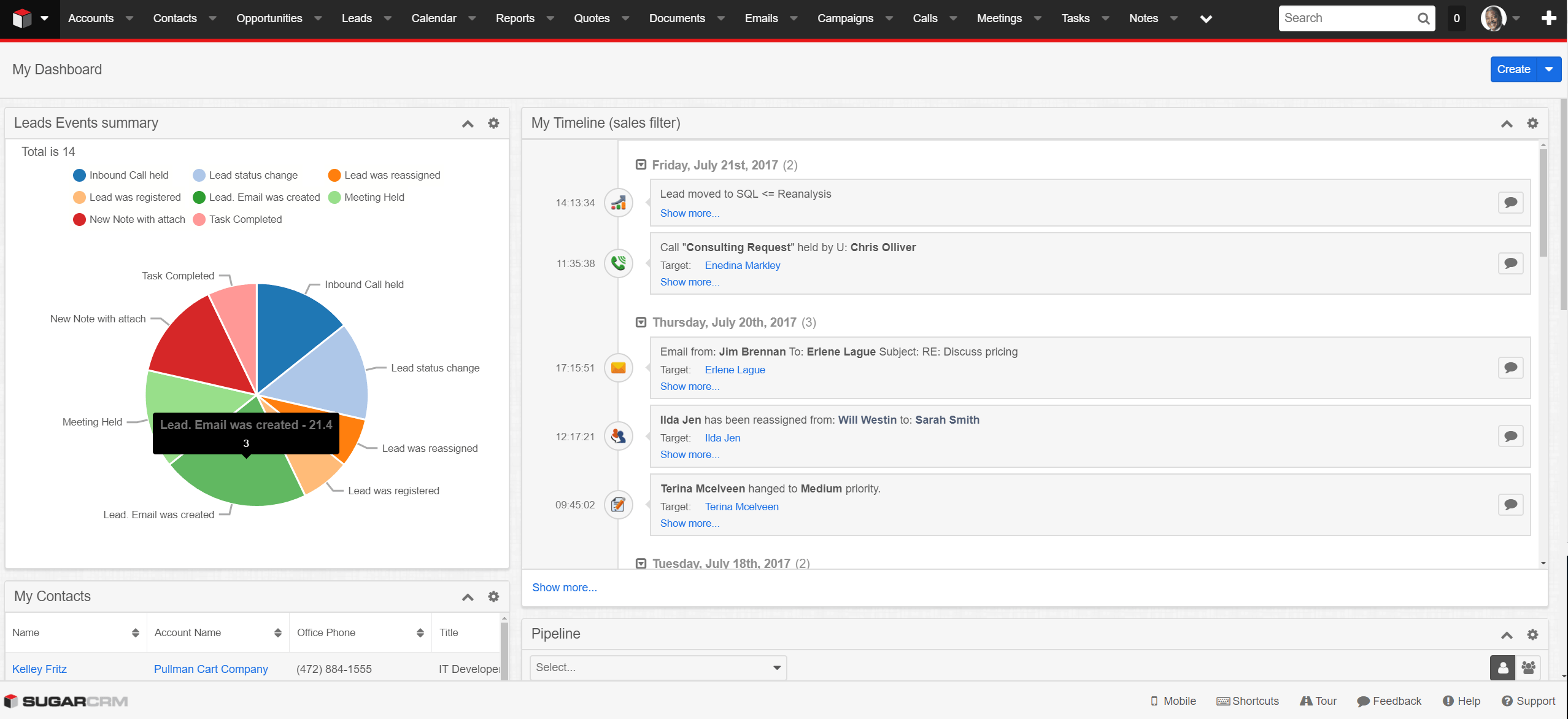 All you need is to add My Timeline dashlet (a part of TimeLine Viewer add-on) to the dashboard and set the appropriate filter.
It is a piece of cake. Choose the basic dashboard and switch to "Edit" mode for adding new dashlets. Add My Timeline dashlet and set its filter according to your tailored needs.
The following filter settings can come in handy:
Target Module allows selecting a set of SugarCRM Modules for monitoring and event collecting. For our sales management example, it might be Accounts, Contacts, Leads, Opportunities and RLIs.
Event Type allows selecting a set of categories of key business events that you are interested in. In TimeLine Viewer we have come up with dozens of preconfigured events, which you can start using out of the box. However, instead of promising you a one-size-fits-all timeline of events, TimeLine Viewer gives you the tools to decide what events are significant in your situation.
Date allows determining the timeframes for events, including direct date range definition (from [start] to [finish]) or relative values ("yesterday", "next 7 days", "this month", etc.)
Triggered by allows selecting the names of users whose actions you wish to review. It allows setting up dashlets for particular sales or project teams.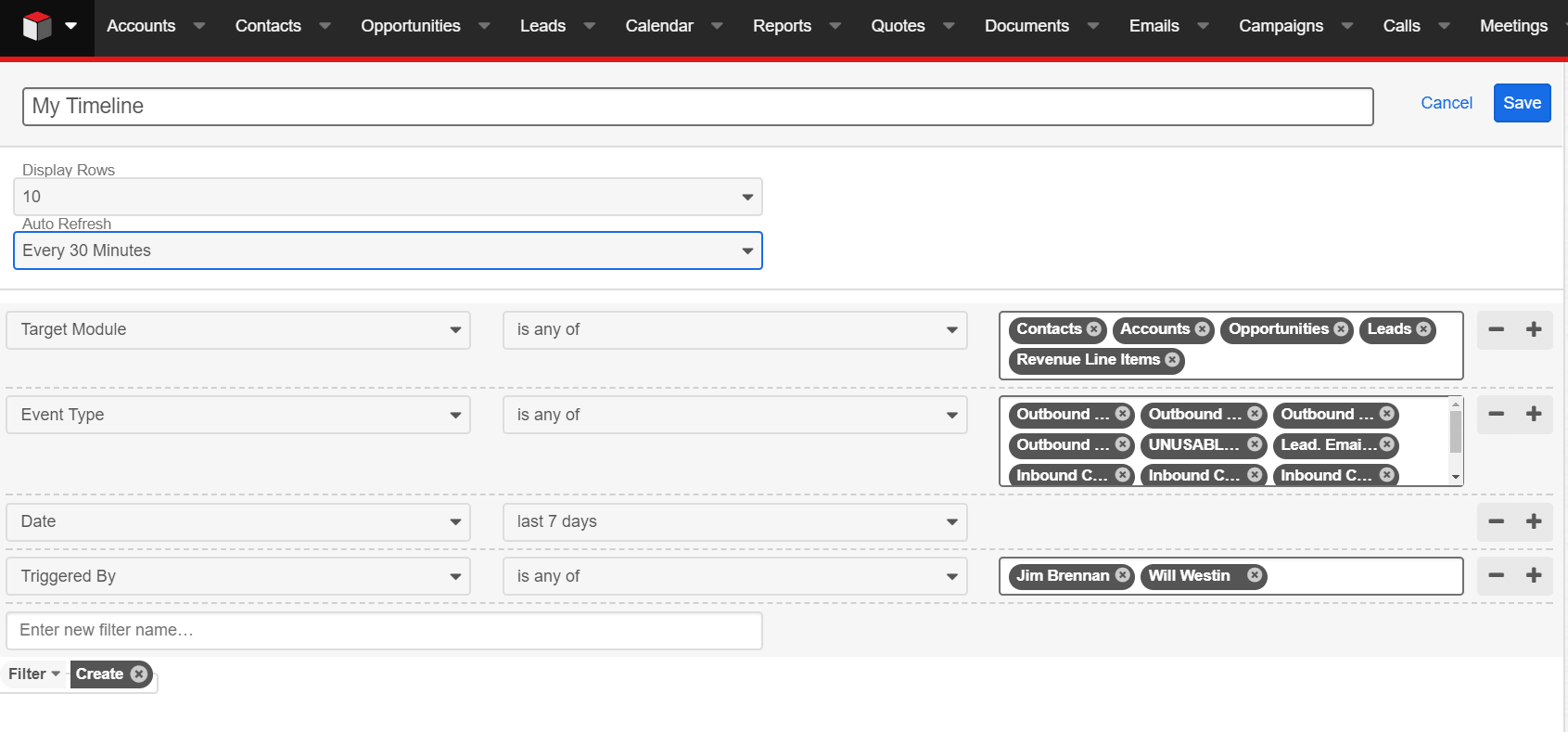 Thus, you collect the data interesting for you, and your dashlet will allow both getting a prompt comprehensive evaluation of the situation and thoroughly scrutinizing the details.
As a result, all you need is at the end of your fingertips:
After filtering, everything important that is happening in various SugarCRM modules is collected in one logical stream with informative description and information about related objects. Certain day statistics is available with possibility to collapse the feed on date which is not of your interest.
Details of emails, meetings' notes, calls & task descriptions, notes are available in one click directly from the dashboard. You just click "Show more…"
You can leave a comment directly in the event's feed and mention the @person(s), who you think should check it out and you will be sure that they will be notified about it. You can use full power of your team without wasting time.
In addition, you can add various reports, based on date of TimeLine Viewer using standard SugarCRM reports and dashlet "Saved Reports Chart Dashlet". For example, we used a pie chat diagram for visualizing statistics on all type of Leads' activities that we were interested in. We will show you some useful examples of reports based on TimeLine Viewer data in one of the following articles.
Want to try TimeLine Viewer? Leave us a request and we'll be happy to give you access to the demo-environment.
---
Other articles from "SugarCRM tips" series: