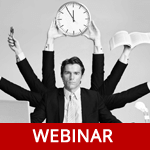 November 8, 2017 – One of the most important questions for every CRM user is "How can I save my time and make my everyday work in SugarCRM easier and more efficient?" If you agree with that, it is worth seeing this 30 min webinar recording.
The current use case is about day-to-day work of B2B Sales Manager:
In this video, you will see how to move key business data at your fingertips and significantly improve efficiency of your daily work:
save 20-30 minutes every day and stay informed about all the most important changes in your SugarCRM database
save 50% of time when getting ready for every communication with a lead or customer
grasp in a few seconds what important changes happened in your portfolio of accounts/leads/opportunities
find "overlooked" customers or leads in one click
collaborate with colleagues more effectively and quickly using the context of the business event
However, it is just an example. You can apply the approach shown to unlock full power of SugarCRM platform and create your own solution tailored for unique needs of your customers.
Programming is not needed! Only regular SugarCRM and regular add-ons (Logic Builder and TimeLineViewer) are used.
Every Sugar evangelist, SugarCRM partner and Sugar consultant will find new ideas on how to monetize knowledge of customer needs.
Watch the Webinar
Other SugarCRM webinars are available here.