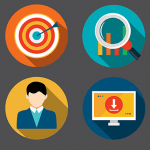 Are your sales reps engaged at work? Before answering, consider the next stat: according to Dale Carnegie and MSW survey, 71% of all employees are not fully engaged. Let's go back to our question: if your answer is positive, you are lucky. If not, in this article, we show how to improve sales staff engagement by customizing SugarCRM.
Before we start, look at the one more amazing fact: companies with engaged employees outperform those without by up to 202%. Tempting, isn't it?
The Non-Conventional Approach to Sales Engagement
Firstly, take a notice that we don't talk about traditional ways to encourage employees like bonuses, incentives, recognition, etc. Instead, we want to delve into gamification that is game-changer in the modern business world. In combination with conventional approaches to employees' motivation, gamification produces impressive results. According to Boston Retail Partners' 2015 CRM/Unified Commerce Survey, corporate workers say the top benefits of gamification are an increased desire to be at work and be engaged (30 percent), inspiration to be more productive at work (27 percent) and a sharper focus on tasks (20 percent).
We tried to implement the idea of gamification by customizing SugarCRM. And now we want to share the results of our SugarCRM development with you.
The Amazing Example of Customizing SugarCRM for Gamification
The solution has been implemented at Admiral Markets, an international group of companies that provides Internet trading services in more than 50 countries worldwide.
The idea was based on the sales reps' "competitiveness" concept. A little SugarCRM extension enabled realization of dashboards that retrieve data from the CRM system and provides a real-time presentation of a sales person and a sales team KPIs for a particular period (current day, a week, a month, last 30 days) compared to other colleagues.
The metrics include:
A number of outbound calls
A number of customers that have been taken to the last stage of a purchase journey and generate "cash"
An amount of generated "cash"
Moreover, dashboard compares current sales person's KPIs with the KPIs of a similar time period in the past, due to which sales managers can easily track their personal efficiency and performance of their colleagues.
This is how it looks: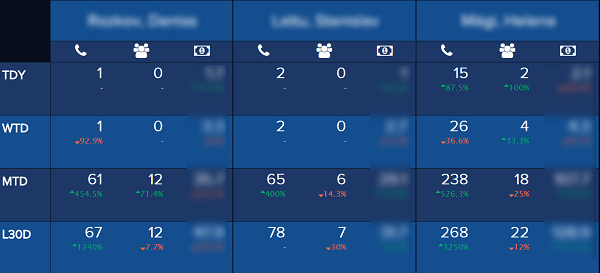 The Results of Such SugarCRM Development for Business
Expectedly, our SugarCRM extension allows sales people to compare personal results with those of others that has become a motivating factor and brought in a game element into sales reps' tense work, which had a positive effect on the company's overall results.
Good luck! If you need any advice in the development of unique business solutions based on CRM system Sugar, we will be glad to help.