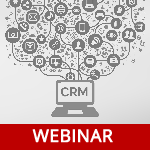 Besides a CRM system, there are some other external systems which store important customer data. During our new SugarCRM webinar, we will show you how to gather significant external events along with CRM events in one informative feed within Sugar. Such an approach helps to make customer view in your CRM system more accurate and complete.
Watch the webinar and find out:
How to allocate Sugar Timeline
How to prepare important facts in the external system to be collected by CRM
How to arrange Clients key events from important facts
How to implement by yourself or with integration development
By the way, we have a vast library of SugarCRM webinars https://integroscrm.com/sugarcrm-video-tutorials-and-webinars/. Here you may find useful ideas on how to make your CRM system more powerful and convenient. We update it with new webinars regularly, so you're welcome!
Watch the Webinar