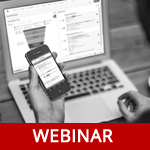 The famous old dilemma "working to live or living to work?" no longer makes sense. As technology is taking a foothold in nearly every aspect of our life, a new "work like you live" approach becomes more popular. The rapid acceleration of technology allows modern people to work wherever they are – in the office, at home and even on the road. Moreover, state-of-the-art tools make working process extremely convenient and help to improve productivity. Our new webinar "Productivity Enhancement for Every CRM User with Minimum Effort and Maximum Results" is all about it.
During this SugarCRM webinar, we are telling how to stop everyday routine data digging and dramatically enhance your productivity with regular SugarCRM add-ons such as Customer Journey, Hint, iReports and TimeLine Viewer. If you want to add hours to your day and be able to work wherever it is convenient to you, you've come to the right place! Here you'll find out:
How to save at least 50 minutes every day and stay informed about all the most important changes no matter where you are: in the office or on the way
How to understand in a few seconds what happened in your portfolio of accounts/leads/opportunities/cases
How to accept help from teammates easier and quicker
How to be prepared for communication with a lead or customer in a second
How to find, just in one click, customers or leads who haven't been given enough attention
Watch the Webinar
Other SugarCRM webinars are available here.