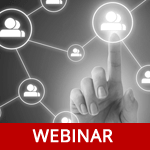 Social media became a bonanza for B2B sales managers; they can learn everything about their prospects on the spot and get ready for communication efficiently. On the other hand, social surfing takes a lot of time. According to SalesTech Report 2017, 72% of sales professionals spend 30 minutes or more preparing for a meeting with a new prospect, while nearly half (49%) spend at least 45 minutes preparing. Is there a way to get of routine?
We reveal this secret at our webinar "How to Make SugarCRM Contacts Data Update Easy, Quick and Intelligent". It takes only 20 minutes and shows:
How to update and enrich contacts data with Hint in a click
How to process and share updated data automatically through CRM system in an intelligent way
The approach helps every SugarCRM User to save at least 110 hours per year and allows getting rid of tedious manual work.
This SugarCRM webinar will be especially useful for:
B2B sales & marketing managers
B2B sales representatives
B2B inside sales
SugarCRM evangelists
SugarCRM admins
SugarCRM partners
Watch the Webinar
Other SugarCRM webinars are available here.