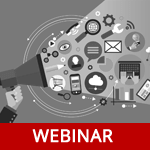 The variety of interaction channels provides many opportunities for business – the chance to reach out to a larger audience, increase sales, get a more complete customer view, ensure comfortable communication for the customer, etc. At the same time, the approach creates certain obstacles. Customers tend to switch between the channels and expect a seamless customer experience across all of them. Those companies who do not take this fact into account, bombarding their clients with the same messages, or ignoring customer interaction history when switching from one channel to another, or responding to customer requests with delay, are doomed to fail.
Omnichannel customer experience is not a whim, but a necessity today. Those companies who want to succeed should create a reliable omnichannel strategy. During our new SugarCRM webinar "How to Carry Out Omnichannel Campaign Effectively with Minimum Effort", we will show you how to achieve the goal. Watch the webinar to find out:
How to save hours a day on preparing the effective personal follow-up
How to create complex custom emails templates with 100+ versions of the final text
How to create and update target list automatically using the visual Sugar ecosystem tool-belt
How to design engagement process to leave routine communications to the system
How to adjust interactions with a lead based on its activity throughout the channels
Watch the Webinar
Other SugarCRM webinars are available here.