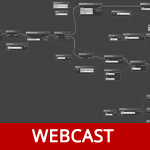 The new episode from our webcast series is here! This time we delved into a very sensitive issue – customer data privacy. GDPR and other data privacy regulations made this issue a pain point for many companies, and today we want to share our lifehacks on how to customize Sugar without programming to make your processes more standards-compliant.
Sometimes leads do not give an explicit consent to process their data (e.g. when you generate leads via phone or offline events/communication). The new SugarCRM webcast will show you how to automate the process of email address validation and asking consent to personal data processing and thus to enhance email channel reliability. Find out how to configure this automation in Sugar at the webcast "Verifying email address & asking consent for using it".
By the way, you can always watch the whole series, other our SugarCRM webinars and video tutorials here: https://integroscrm.com/sugarcrm-video-tutorials-and-webinars/.
Watch the Webcast