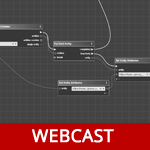 Entering data in the CRM system is not enough, it is important to keep the information up-to-date.
The manual update is a routine and time-consuming task, and today we will talk about how to automate the process. During our SugarCRM webcast, we will show you how to solve the task "When Contact leaves the Company, remove Contact from Opportunity participants and/or assign Task to the manager on Contacts List update". Most importantly, you absolutely do not need programming knowledge for such SugarCRM customization. That's great, isn't it?
We have even better news, we regularly host such webcasts, so if you are looking for the ideas on how to improve your work in SugarCRM in a simple way – watch our past SugarCRM video tutorials and webinars. By the way, we also announce our future events here: https://integroscrm.com/sugarcrm-video-tutorials-and-webinars/.
Getting back to our webcast, you will be able to apply this knowledge to solve other SugarCRM customization tasks.
Watch the Webcast