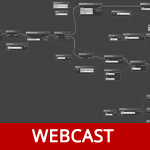 "Customization takes way too much time."
"There is no way to solve this task without involving developers."
"Need customization? Get ready to spend lots of money!"
What you have just read is no more than a bunch of myths about customization. In order to dispel them, we use our proven "myth buster" – Logic Builder, a cloud visual programming tool for Sugar that accelerates implementation of user stories by 10x times. At our webcasts "Let's Practically Apply Sugar Configuration over Code Development", you can find step-by-step solutions for customization tasks from A to Z: how to configure CRM data validation, how to extend SugarBPM, how to enhance data exchange with other systems, etc.
This time we invited a special guest, Lars Aagesen, Compliance Manager at Logis Solutions, to share his experience of configuring Sugar.
Logis, headquartered in Denmark, offers computer aided dispatch (CAD) solutions to the EMS market (Emergency Medical Services), including Non-Emergency Transfers and Homecare Services.
Lars shows some of the tasks solved with Logic Builder and their specifics:
Hours Tasks: solution build time logging
The goal for this was to be able to create records for registering time that Logis employees are using building solutions for their customers
These Hours Tasks are connected to other Logis systems through integrations
Prevent forgetting to invoice customers and invoice correctly
Easy way of generating correct invoicing (Oppportunity and RLI) based on simple Quote generation
Lars' experience proves that performing customizations by yourself is easy as pie: "I have been working with CRM business processes for more than 15 years and are used to doing advanced configuration and request new development. I have no coding skills, but after I found Logic Builder I can now perform all the customizations to SugarCRM that I previously relied on developers for such as high-performance business logic. The support from Integros is extraordinary, not only do they help fix issues – they also suggest valuable improvements to the implementation. That's exactly what I need."
Our sincerest thanks to Lars for sharing his success story. This was awesome!
Watch the webcast recording to learn more:
Watch the Webcast
You can also get access to the whole webcast series here.