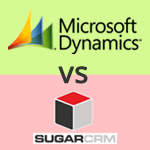 Today, CRM market is saturated with numerous CRM solutions. Available CRM systems can fit every taste. Still, SugarCRM and MS Dynamics CRM are among the leaders. They are both high quality systems, but on closer inspection they do have a few key differences which may influence your choice. Depending on the goals of your business, your requirements for a CRM system may vary.
There is a list of reasons why Sugar may be better for your company:
iOS/Android native mobile client (Not available in MS Dynamics)
Powerful workflow and BPM features
Deploy Sugar in any environment: On-Demand, On-Site or public cloud
Open architecture makes Sugar easily integrated with any 3rd party app or system and limitlessly customized
And much more
Download Ebook!