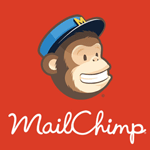 Author: Sergey Zakharenko, Senior Consultant
Mailout is known to be the cheapest channel of conveying information about your company to customers. Using specialized services allows sending a large number of personalized e-mails, without spending lots of time on it. One of the market leaders in this sphere is MailChimp e-marketing service. This blog post describes how SugarCRM integration with MailChimp can benefit your company.
What is the problem?
Preparation of a mailout may be quite time-consuming if done manually. That is why many marketers consider such an activity to be a real chore. Just imagine creating a number of personalized e-mails while adjusting each one to a particular person.
However, with an advent of e-marketing services, this is no longer a problem. Now the program can itself choose a contact from the pre-arranged database (e.g. SugarCRM contact base), fill in all the corresponding data in the letter, and run the mailout. The only thing left for a marketer to do is prepare the template of a letter and sync the contacts.
Why MailChimp?
The solution became so popular thanks to low tariffs and powerful functionality that allows preparing letters, easy to read both on computers and on mobile devices.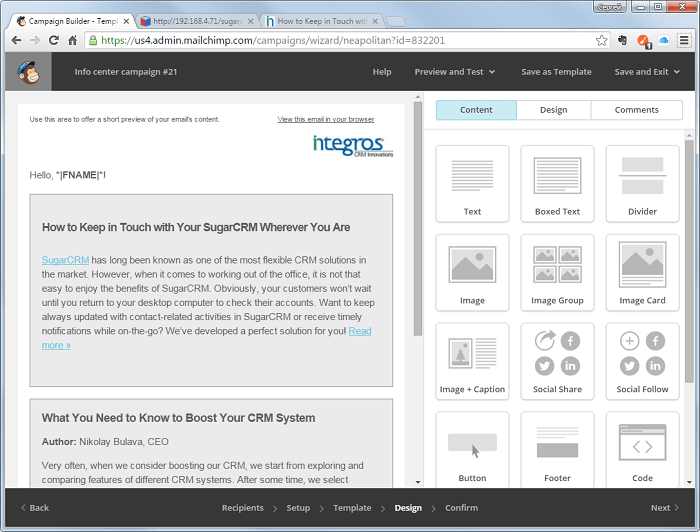 1. User-friendliness of MailChimp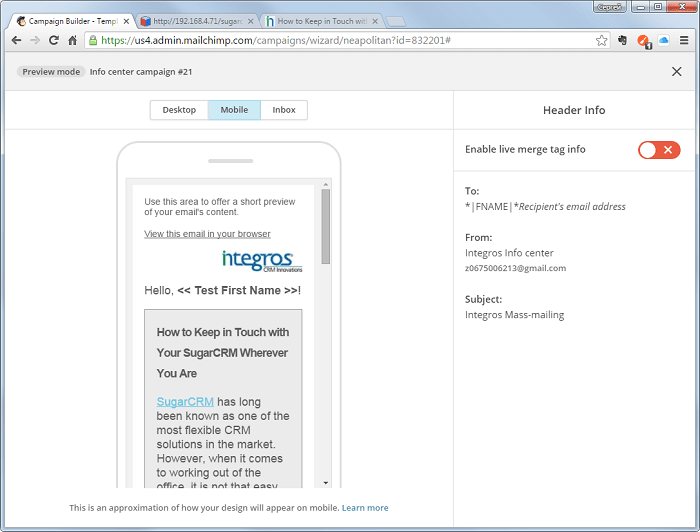 2. MailChimp on a mobile device
How to ensure flawless SugarCRM integration with MailChimp?
For many business users, it is crucial that a CRM system has marketing tools for the analysis and accounting of customer feedback. To this end, Integros LLC developed a connector between SugarCRM and MailChimp e-mail marketing service.
Such integration helps to solve the following tasks:
Sending a mailout through MailChimp to recipients from SugarCRM customer base.
Segmenting the customer base according to the customer profiles in SugarCRM. This way you can designate which letter to send and who will be the recipient.
Showing mailout results in SugarCRM account history.
The procedure is as follows:
Create a mailing list of recipients in SugarCRM, using data from customer profiles and the results of previous mailouts. Then, transmit the complete customer target base to MailChimp: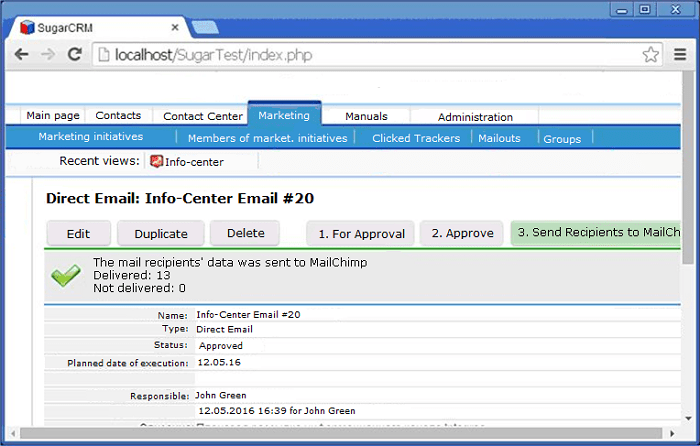 3. Transmitting Customer Database from SugarCRM to MailChimp
After that, prepare a template and contents of the letter and start the mailout.
MailChimp will start collecting statistics on the sent letters: who opened the letter, who followed the links and which ones exactly, etc.: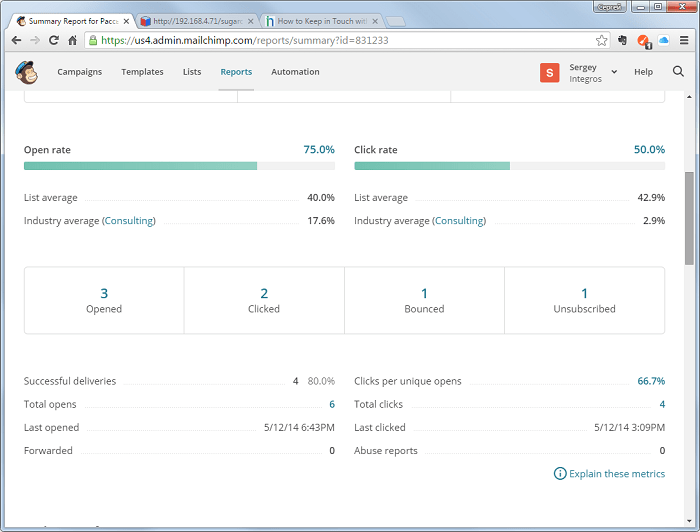 4. MailChimp Statistics
The same report will be displayed in SugarCRM, as shown in the following screenshot: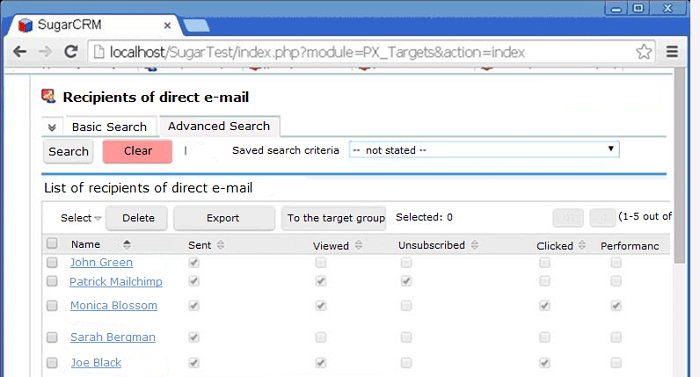 5. SugarCRM Report
The analysis of the mailout will prompt you of how to further work with the client. The customer's following the desired link may be a good reason for your manager to call them or send a letter specifying the details of a product.
What benefits will SugarCRM integration with MailChimp bring to you?
Taking into account the above information, I can say that there are several advantages of the SugarCRM integration both for a company and end users:
MailChimp saves a considerable amount of time that could be spent more efficiently, thus optimizing the operation of a marketing department.
The functionality allows compiling useful analytical reports, which help evaluate the effectiveness of a mailout and decide how to continue to work with a customer.
Thanks to the analysis based on MailChimp, marketers will be able to assess previous mailouts and make amendments so as to achieve a better response, and, consequently, attract more leads in the future.
Should you come across any issues with SugarCRM integration with any tools, do not hesitate to contact us. Our experts will be glad to help you.