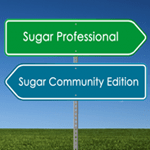 December 15, 2016 – Integros hosted the webinar "SugarCRM Community Edition vs SugarCRM Professional: Is It Reasonable to Upgrade" that attracted both the users of open source CRM systems and those looking for their "perfect CRM". The webinar disclosed the peculiarities of SugarCRM Community Edition, the most frequent problems associated with its usage and the optimal ways to solve them. The attendees were able to find out the answers to the following questions:
What is the difference between SugarCRM Community Edition and SugarCRM Professional;
What one should know about hidden costs of SugarCRM Community Edition;
What are the risks of using SugarCRM CE and how to mitigate them;
When SugarCRM CE upgrade is really reasonable.
The main purpose of the webinar was to help users understand how business growth affects the requirements for a CRM system, and how to find out that the platform is no longer able to carry out the desired tasks and the costs of all customizations required for a successful system's performance exceed the cost of SugarCRM commercial editions.
Moreover, the participants had the possibility to put a question to the CRM expert with years of practical experience in the CRM industry. Integros is grateful to all the attendees for their participation and is now looking forward to new webinars.
Watch the Webinar