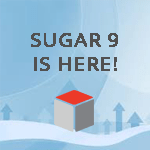 Last week we hit a major milestone at SugarCRM with the release of Sugar 9. Sugar 9 encapsulates all of the awesome new features and additions to the product we've added over the past year.
Empowering our customers to accelerate sales from first call to go live is at the heart of our new Sugar 9 release. As a business accelerator and innovator, our mandate is to consistently exceed our customers' expectations and to thrill them with rapid delivery of new products and capabilities, feature enhancements and performance improvements. To that end, we've upped our game big time in Sugar 9, anchoring every new capability on acceleration. With these significant enhancements, customers can now collaborate and communicate more effectively, know more about their customers to quickly make better decisions and do more with faster quotes, more automation and rock-solid SOC2 compliance. Most importantly, Sugar 9 really screams – like SpaceX fast – boosting performance throughout the product.
Whether the customer is an individual user or a senior manager, Sugar 9 offers game-changing enhancements to accelerate their business, allowing them to collaborate more, know more and do more. Here are my favorite new business-acceleration features:
Business Accelerator #1: Collaborate More
Email Collaboration: Whether for Sales or Customer Service, CRM is a team game. We've enhanced our email capabilities so customers can now use group outbound email. Administrators can configure an email address for sending which is automatically made available to entire teams of Sugar users.
Comments Log: The Comments Log feature enables groups of users to have searchable, time-stamped conversations associated with CRM records. Sugar is about collaborating, and conversations about accounts, cases, contacts or leads belong directly in the CRM. Of course, when having those conversations, sometimes words aren't enough to express yourself. So…
Emojis: That's why we've enabled Emoji support throughout Sugar, freeing you to communicate however your ❤ desires.
Business Accelerator #2: Know More
Reports: To get customers using Sugar faster, we've quadrupled the number of re-usable reports. These reports are an excellent starting point and can be used as-is or as the basis for custom reports. They demonstrate best practices for CRM reporting and allow customers to be more data driven while managing their sales and support operations.
Reporting: On the reporting front, new scheduling capabilities allow you to conveniently distribute reports to entire teams. This ensures everyone can operate from the same set of data. Your reports can now include a ton of new visualizations helping you make informed decisions, backed by data. If the built-in capabilities aren't enough, all report types can now be exported as CSV for viewing and refinement in other tools.
Customer Analytics: As Maya Angelou says, "when you know better, you do better." We agree, and we have made headway on a long-standing SugarCRM problem which is, 'How can we better understand our customer usage of our products?'. With Sugar 9, we've integrated Pendo to gather anonymized metadata about how our customers interact with Sugar. We intend to use this additional insight to identify areas of product strength as well as areas which aren't quite hitting the mark. We chose Pendo because it allows us to make informed decisions based on aggregate data without direct access to customer instances and without exposing customers' confidential data.
Business Accelerator #3: Do More
Quotes: A common area of friction for new CRM users is personalization and branding of the quoting experience. Sellers frequently need to customize quotes, displaying information that is relevant to their business or hiding information that isn't relevant. They might wish to see a description for each quoted line item or want to remove shipping information from their quotes. Prior to Sugar 9, these types of changes required code-based customizations. Now they can be done inside of Sugar with our all-new upgrade-safe capabilities.
Product Catalog: Productive sellers can now make use of the Product Catalog Quickpicks Dashlet, allowing them to quickly add their most frequently quoted line items to quotes. Quotes have also been surfaced in SugarCRM mobile allowing sellers to quickly build and deliver quotes, even while on the go.
SugarBPM: As you know, enabling our customers to map out and enforce their business processes is a difference maker. Over the years, we've built an incredibly powerful BPM engine, and we're taking it to a new level in Sugar 9. The SugarBPM engine is jam-packed with so many new BPM features and the breadth and depth of these new capabilities is truly awesome. With SugarBPM you can:

Fill out and send email templates on record updates, leveraging both the old and new record values. This helps users better understand state transitions. You can now send those notifications to contacts from related records in addition to the primary record contacts.
Implement approval-based workflows allowing you to reassign records based on time, ensuring compliance with the organization's service level agreements.
Trigger processes based on multi-level relationships and terminate those processes based on record criteria.
Implement workflows that leverage many-to-many relationships.
See and correct potential process issues at design time through enhanced process validation.
Easily categorize, locate and adjust your processes with tagging support.

Platform: On the platform front, core stack components have been updated, allowing userers to remain compliant with their corporate security objectives. Support has been added for PHP 7.3, Windows 2016 and MS SQL Server 2017. Additionally, support has been added for double opt in email workflows, ensuring that an organization can comply with data privacy directives such as GDPR
SOC2 Type 2: Additionally, this year we've bolstered our organizational processes and evidence gathering. This was a cross functional activity led by SugarCRM CIO Kirk Fjelheim and aided by individuals across SugarCRM. This work allowed us to successfully complete our first SOC2 Type 2 audit and is a testament to our capabilities as an organization. Our customers put their faith in our product and services every day and SOC2 Type 2 provides third-party validation that we take this responsibility seriously.
Biggest and Best Business Accelerator Ever – Performance
One of the most important aspects of Sugar is overall performance. No matter how proficient users become at working in Sugar, they can only operate as quickly as the system allows them. We've made huge improvements this year in tuning Sugar so you can access the information you need in the moment you need it. With Sugar 9, API performance has been optimized. Measurements show improvements in List View performance of up to 700% with large datasets. Application throughput also has improved. We expect that Sugar users can process up to 70% more transactions on the same hardware.
I'm incredibly proud of what we've accomplished with the Sugar 9 release. As head of our product programs, it's my job to always want more. Over the past year, we've retooled for rapid delivery of high-quality products. We deliver what we promise when it's promised. In the year ahead, we'll be tuning our roadmap creation process, ensuring that we are delivering new products and compelling updates to existing products that move the needle for you, our valued customers and delivering all new products that will be developed internally and through acquisition. It's my commitment to everyone in the Sugar ecosystem that we'll deliver great products and technology to best help you achieve your business goals.
Get help with Sugar upgrade
Author: Rich Green
Source: sugarcrm.com