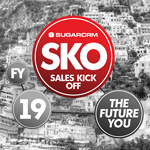 This February, SugarCRM and its Partners around the world, including Integros, gathered at SugarCRM Sales Kick Off in Sorrento, Italy. For the first time in recent history, SugarCRM combined Sales Kick Off and Partner Summit into a single event for the entire Sugar ecosystem. Integros was proud to be a Sponsor of the event and to receive great feedback for its SugarCRM add-ons – Logic Builder and TimeLine Viewer.
It is always a pleasure to be among like-minded people, who share the same vision and work towards the same goal – to help businesses build extraordinary customer relations with SugarCRM platform and related products. Being a good example of such products, Logic Builder and TimeLine Viewer successfully complement SugarCRM by making it more powerful, convenient and efficient. Logic Builder is a tool that turns programming into configuring. Logic Builder is our remedy for those who are tired of long development cycles but couldn't deny oneself the pleasure of having convenient and flexible CRM system.
TimeLine Viewer plugin was built to inform Sugar Users about all-important events. "What happened?", "When did it happen?", "Who did it?" – you will be able to find answers to these important questions within seconds in one informative stream that can be easily adjusted to your needs. Collaborate with colleagues, stay tuned wherever you are – in the office or on the way, build necessary reports using data from TimeLine Viewer, create your own unique events with Logic Builder – all you need is now at your fingertips.
If you are looking for new ideas on how to add power to your SugarCRM, you are welcome to our solutions video library. Here you will find SugarCRM webinars on different hot business topics and for every taste.