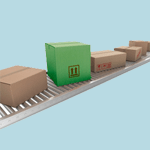 Author: Nikolay Bulava, CEO
Systematicity is a necessary factor for business growth as it presupposes replicating, managing and continuous improvement of processes. Implementation of Business Processes Management (BPM) tools ensures systematicity so far as BPM tool leads a user along a defined in advance algorithm and collects data for managing and improving.
But how can one provide an individual approach? The answer to this question is very important in sales processes. Here are some typical situations that are an integral part of an individual approach. Each one can be described in BPM tool with huge difficulties or can't be described at all:
You don't know in advance how many times you should communicate with a prospect and if a call is enough or a meeting is required as well. If it is, then how many are required: one, two, …? Who knows.
You don't know in advance how many times you need to prepare and discuss an offer with a prospect and with your colleagues.
In spite of your standards, a prospect requests a standard contract prior to discussion.
Your prospect asks you to make an alternative offer at the final stage of negotiations and you need to return to the previously executed steps.
In sales there is a wide list of "uncertainties" that can't be defined in advance and assembled into algorithm. But it doesn't mean that one can't provide systematicity of sales processes and individual approach simultaneously. To make it possible we must:
Split sales cycle into stages. Usually each company has it as stages of sales funnel. The main issue of sales funnel is a subjective definition of the current stage that makes sales funnel a bad source for sales forecasting
Define intermediate results and artefacts that need to be achieved at each stage. It allows to reduce subjectivity in sales stage definition. Exactly at this point one could meet (and one is going to meet for sure) some difficulties, because the list of results and artefacts depends on a lot of factors (who a prospect is and which products he/she is interested in, what an opportunity amount is, etc.)
Define the set (but not the strict sequences!) of steps that should be executed to achieve particular results. Any particular step can be defined as a separate process inside BPM tool if it's appropriate.
Provide prompts on how to execute a particular step in the best way with a possibility to collect feedbacks from your personnel for continuous processes' improvement.
Provide your staff with a possibility to decide what steps should be executed and their execution order, including the possibility of returning to previous steps that have been already executed.
Control the speed of moving forward, because the "pending processes" are a reverse side of decision's making freedom.
It will be appropriate to say that you need to carry out the analysis of both actions (who, what, when and under what conditions executes/skips) and feedbacks from the employees (what should be added or changed) on a regular basis in order to improve the processes continuously.
In order to support such an approach, you need to use a special tool. The SugarCRM add-on "Check List" by Integros can be an example of the abovementioned tool for CRM system based on SugarCRM platform.
If you are planning to implement individual approach and systematic sales process, you can contact us.
Would you like to know more?
If you are willing to know how to effectively solve issues related to CRM implementation and CRM systems, follow us on Twitter and LinkedIn.