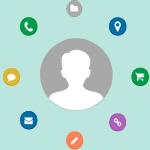 Author: Nikolay Bulava, CEO
360° view of the customer is a very popular concept, as it significantly reduces time for the search of the right information. TimeLine Viewer by Integros, a SugarCRM plugin which creates new possibilities for implementation of 360° view approach, is aimed to make work with a CRM system more comfortable and user-friendly.
Despite the fact that SugarCRM is truly good at enabling the 360 ° view approach, there is no limit to perfection. There are three reasons to start using TimeLine Viewer.
Reason 1. Each person has their own opinion of what "a value adding activity" means to them. Very often, these activities are the most valuable information, based on which associative memory of a man works. Collecting and displaying these activities, SugarCRM plugin allows the user to find necessary information faster.
SugarCRM open architecture provides wide possibilities to manage data, but we made sure to be able to do this work without programming. Applying TimeLine Viewer in conjunction with Logic Builder allows customizing scripts to collect and generate data on any activities by efforts of Sugar CRM administrator without programming.
Reason 2. Users used to see all the value adding activities, in their understanding, of the same type on a timeline. Therefore, in our projects we often had to create sub-panels and dashlets that collected different activities to display them in the "single window" on a timeline. Customers often ask us to show an overall history of communications (meetings, tasks, phone calls, e-mail) on a single sub-panel. In most cases, this is the only way to evaluate the situation quickly and properly.
However, users ask for a possibility to review the timeline of the value adding activities:
not only for a single customer, but also for groups of customers;
not only for an object "Account", but also for any other objects (Opportunities, Contract, Contact, Case, …);
not only for one object, but for the list of objects, for example, an overall communication across all customer's cases.
TimeLine Viewer can be used to resolve a wide range of real-world problems quickly, among which the most popular are:
Overall history of communications (calls, meetings, e-mail, newsletters, publications on the website, webinars, …) with a Company or a group of Companies
Client's statuses changes history in conjunction with shipments history
Cases history and the history of communications with the customer as a part of the service
Shipments and complaints timeline
Products' releases history and the history of Customer's requests
Reason 3. TimeLine Viewer is more convenient for the user than Sugar Activity Stream, since it allows users to:
Manage the content of the collected activities, which make the activity stream more informative for users
Filter activities and save popular filters for the next use
Set up icons for activities to make your work more pleasant and fast
View activity's related objects without leaving the screen
To watch the webinars on TimeLine Viewer plugin for SugarCRM, click here.