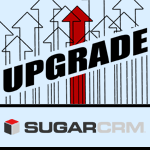 Author: Anna Petelina, Product Manager
As current CRM systems mature, companies inevitably want to upgrade to newer, better systems. Therefore, it is important to plan properly.
With all those innovations these days — including new social, mobile and cloud-based capabilities — many organizations want to move their customer service operations from older CRM system to something better. We can help to introduce innovations to your business with a SugarCRM upgrade.
CRM technology is evolving at a rapid pace, with new features added to improve employees' efficiency, productivity and their work convenience. As a result, businesses will eventually need to upgrade their CRM system just to keep pace with the competition.
This article offers tips on how to make sure a SugarCRM upgrade goes smoothly. Now sit down and take a note 🙂
Industry watchers and end users say a CRM upgrade process can be arduous and messy — not to mention costly — if done wrong. However, with certain CRM migration best practices solidly in place, the initiative can go off without a hitch.
Firstly, we carry out business and technical analysis of your current SugarCRM and environment to define the scope of work
It allows us to examine the best ways to ensure a smooth CRM upgrade.
Secondly, we draw up a migration plan, which includes budget and project timeframe estimation
This can help organizations avoid headaches and save money during a SugarCRM upgrade. In our practice, the biggest and most frequent blunder is underestimating the cost and amount of time it will take to get the job done right. This happens largely because businesses make mistakes when estimating how much data and what types of data to migrate. Arriving at reliable estimates for costs associated with a CRM upgrade project is largely a matter of understanding the cost of the data migration versus the cost of the new software itself.
Thirdly, we migrate data, which presupposes data scrubbing and data reclassification, and migrate customized modules
We recommend communicating closely with co-workers and department heads to find out what information is vital and must be transferred to continue serving customers without interruption or service degradation. Every little bit of information looks important when embarking on a CRM data migration step. Old contact records, customer service emails and notes histories are just a few examples of info that seems worth saving when moving data to a newer Sugar CRM system.
But not all that data should be transferred, and it's not just a matter of capacity. It's also about cost, compatibility, convenience and serving the needs of the business. If too much information is moved, an organization is bound to waste time and run up migration-related storage and labor costs. If too little, the business could lose customers because of poor service.
We also don't forget about integration with existing business applications, performance optimization and the migrated system tuning
Here you need to have a clear-eyed view of what data you have, the maturity of your existing applications and where you want to be. Taking a realistic view of where you stand now and then deciding what the ultimate goals are for your SugarCRM upgrade project reduces the amount of pressure of dealing with its complexity.
And the last but not least, we provide users' training and support
Shifting from one CRM system to another can also create people problems. That is why it is a good idea to work closely with employees who will be using the new system and keep them abreast of any process that may be affected due to the CRM upgrade project, because you will definitely face huge resistance to change.
These were the key steps to take when embarking on a SugarCRM upgrade initiative. We, who have worked on CRM migration projects, agree the more preplanning and data analysis are done, the more successful the implementation of the new CRM system will be.
SugarCRM upgrade is a complex task; however, our experience allows us to manage it successfully again and again, which is underpinned by the results of our customers. Trust us — and we won't let you down. Discuss the possibility of SugarCRM upgrade with us: