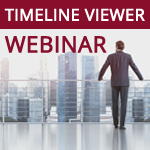 April 06, 2017 – Most SugarCRM users know that it offers a 360° view of customer interactions, which is a real help. It seems to be redundant, however, this full visibility can be even "fuller". Integros hosted a SugarCRM webinar on how to go beyond the standard possibilities of Sugar Activity Streams by improving a 360° approach.
The attendees found out how to quickly and easily resolve a wide range of such typical business challenges, as:
How to see a full history of communication (calls, meetings, e-mails, webinars…) with a Company or a group of Companies?
How to monitor customers' statuses changes history?
How to track the history of complaints in terms of shipments?
All these obstacles have now become overcoming due to TimeLine Viewer, a powerful SugarCRM plugin, developed to extend the display of value adding activities' in CRM system. The distinctive feature of TimeLine Viewer is its flexibility. For example, this SugarCRM plugin allows you to:
Manage business activities which are significant only for you;
View activities' timeline for one CRM object such as Lead, Account, Contact, Contract, Case etc. or for a set of objects;
Use handy dashlets and dashboards to display activities in the "single window" on the timeline;
View activity related objects without leaving the screen;
Register non-standard activities, such as:

"Customer hasn't been contacted for a week"
"Case hasn't been processed for 4 hours"
"Lead got 10 scores"
"Lead with 10 points score hasn't been contacted by the Assigned to for 1 hour"
Etc.
If you missed the live SugarCRM webinar and want to catch on – watch the recording.
By the way, more useful SugarCRM webinars and video tutorials are available here.