According to Gartner's 2020 sales force automation report, the SFA market grew 11.1% and reached an estimated $7.8 billion in 2019. With respect to this fact, two forecasts can be made: 1) sales force automation will continue to be in demand; 2) with the variety of vendors, choosing the right solution for companies will become more difficult. Gartner evaluated 15 vendors based on each company's "completeness of vision" and its "ability to execute". The detailed report will help buyers to choose the solution that best fits their requirements.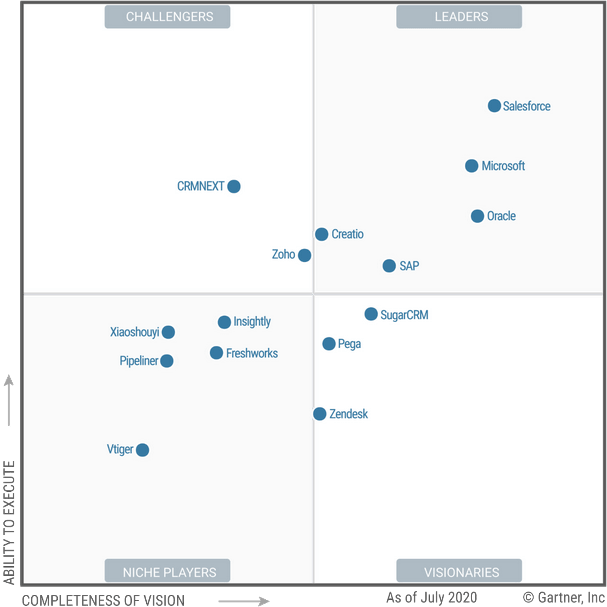 SugarCRM remains in the Visionaries quadrant for the eighth year in a row. It has been stated in the report that SugarCRM has one of the highest revenue retention rates of vendors. Gartner has also mentioned the recent SugarCRM offerings: Sugar Market (a marketing automation platform) and Sugar Discover (a Smart Data Discovery solution).
"We believe SugarCRM is the clear choice for sales automation based on technology, value, and ease of use," said Rich Green, Chief Product Officer, and CTO, SugarCRM. "With one of the highest customer retention rates of all ranked vendors and high scores for both our customer experience and service, companies of all sizes are adopting Sugar Sell to drive their sales initiatives and deliver for their customers".
SugarCRM Strengths
Capabilities: Reference customers gave SugarCRM's application comparatively high scores for its core SFA capabilities. These include the core account and contact management, opportunity management and mobile capabilities.
Customer experience and customer support: SugarCRM received some of the highest scores from reference customers for customer experience and customer support. They especially praised it for its software's ease of setup and SugarCRM's personalized help with unique configuration needs.
Viability: SugarCRM has one of the highest revenue retention rates of vendors in this Magic Quadrant.
Read Full Report
Source: Gartner