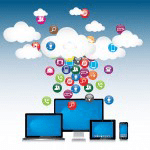 Author: Dmytro Chupylka, Consulting Director
Every our customer wonders what the best way to deploy a CRM system in their company is. This question is often addressed to me, given the decision influences not only the cost of ownership, but also the overall success of a CRM system implementation.
There exist three main options:
On-demand
Private cloud
On-site
The article is aimed to highlight the most important aspects that are to be considered when choosing the best option. Let's have a look at the CRM system Sugar, because this platform supports any of these deployment models.
On-demand – SugarCRM "cloud"
If customer data storage is not restricted by data security regulations, – thoroughly consider this option. It is the fastest and the most economical way to get an efficient CRM system.
Firstly, you save capital costs, as there is no need to procure servers, uninterruptible power supply, system software, and no need to worry about deployment and customization. If you are going to install a CRM system yourself, a deployment budget in this case will heavily depend on the size of customer base and the number of customers, but even for a small company, this amount can be at least $3,000, and for medium-sized companies can reach $30,000-$40,000.
Secondly, you cut down on regular CRM system maintenance expenses, as SugarCRM support carries out a number of critical tasks without additional charges:
Secure data base backups
CRM system performance monitoring and optimization
7X24X365 support to ensure seamless performance
Unauthorized system access monitoring and prevention
CRM system upgrade packages and patches installation to prevent server vulnerabilities
Expenses of maintaining CRM system yourself equal the cost of a qualified IT specialist in your area.
Convenience and economy, ensured by CRM system Sugar on-demand, require the following:
Changes to the system (server) software settings
Integration CRM system with other applications
System Settings. A number of maintenance tasks (such as installation of new fonts on the server) have to be performed exclusively by the vendor's technical support, as a CRM system administrator has no access to administrative panel of the server operating system. Sugar ensures a case response within 4 hours, but in our experience such cases are processed much faster.
Integration. Since the server is outside your local network, the integration of the CRM system with other systems is possible via special protocols (web-services). That's why if you need to integrate a CRM system with Accounting, for example, it is highly recommended to consult an integrator first. We have experienced that kind of integration, so we can state such integration is possible, but there is a risk not to stay within time and budget.
CRM system versions. Sugar on-demand doesn't support versions which are no longer delivered by the SugarCRM support. It means that if your CRM system is highly customized, you should ensure safe upgrade to the latest version. It's rather easy if you have a trained Sugar administrator or an agreement with a certified partner.
IMPORTANT! These features are typical not only of CRM system Sugar, but also of any other CRM system that is deployed on-demand. Therefore, if you consider another CRM vendor, be careful and make sure there are no hidden fees: not all vendors provide maintenance service within the subscription!
Recommended to: companies of all sizes, especially small and medium that need standard CRM functionality and seamless access to data anywhere in the place with the Internet connection.
NOT recommended to: companies which businesses require large customer data (thousands of records at a time) immediate updates (at event or once in a few minutes) and which CRM systems contain much customized functionalities.
Private cloud
Also a "cloud", although another company manages your instance, not a vendor. Such a deployment option guarantees same economic benefits for the servers' procurement and their seamless operation. Integration with other systems is possible via web-services.
Except for subscription you'll have to pay hosting fees. Moreover you'll have to provide maintenance to your CRM system: latest versions installation, data backups, system performance control and optimization etc. (Remember that these works are provided within Sugar on-demand subscription).
However, private cloud enables you to decide whether you are ready to migrate your system to the latest version, while on-demand option retires older versions of the Sugar application. It is crucial, if your CRM system contains much customized functionality which doesn't comply with upgrade-safe terms.
Recommended to: companies with a CRM system with lots of customized functionality and the need of seamless 24/7 access for employees anywhere in the place with the Internet connection.
NOT recommended to: companies which businesses require large customer data (thousands of records) immediate updates (at event or once in a few minutes) except when the systems being integrated are in the same cloud as a CRM system.
On-site
The most flexible, but also the most costly way to deploy a CRM system. This option implies deployment on servers, administration maintenance of which can be fulfilled by your system engineers and, therefore, they are responsible for a seamless system operation.
Utilizing your own server node or hosting on it is a matter of trust to the data center services provider, the regulations that define the way to store and protect customer data and quality of the communication channel between office and a data center.
The core advantage of on-site deployment is that you are free to choose the CRM integration techniques with other systems. You can also use any suitable CRM version, even the one that is no longer delivered by the official support.
But such freedom of choice isn't free of charge. Thus, the additional costs are:
Servers and system software purchase or hosting
Securing the unauthorized access
Uninterrupted operation support (power supply, stable internet channel)
Servers update and backup (in case of procurement)
Software servers update and maintenance
CRM system performance monitoring and optimization
Recommended to: large and medium companies which businesses require large customer data immediate updates (once in a few minutes) and\or require complex custom CRM system components development.
NOT recommended to: companies that do not have qualified IT staff or CRM system maintenance agreement with a reliable contractor.
I hope my experience will help you make the right choice. If you need an advice – do not hesitate to contact us, we will be glad to help you.
Contact us