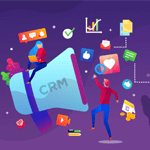 Customer relationship management (CRM) has seen quite the evolution over the last several years. For a long time, companies and brands utilized multiple disparate tools to attract and retain customers, and often without any real cohesive strategy around that goal.
As CRM mega platforms like Salesforce and Microsoft Dynamics 365 emerged, CRM became more of a strategic undertaking. But those platforms were mostly accessible only to major enterprises, due to their cost and difficulty of installation.
Now, in 2018, CRM is a necessity for tackling the highly complex consumer landscape, where attention spans are short, and devices and channels multiply. And it's not just about driving sales; it's about real engagement and creating deep relationships with customers and prospects.
That promise is being realized, according to the numbers. Forrester Research reports that leads nurtured in a CRM system will convert 47 percent of the time, and that conversion rates can improve by 300 percent with a CRM in place. Additionally, CRM can boost purchase value by 40 percent.
With such a value proposition and advancements being made every day, the coming years are sure to be exciting for the CRM space. Let's make a few predictions, shall we?
Predictions for 2019
In 2019 and looking ahead, CRM will be:
A fragmenting market
The CRM giants used to own the market, but thanks to advances in cloud technology, more and more CRM vendors have entered the space. In 2018 there are hundreds of CRM providers in the market.
There continues to be consolidation as major players scoop up smaller vendors that can enhance their own offerings with new features, but many CRM vendors are making plays for niche markets.
Price is certainly a differentiator when it comes to choosing which software is right for your business, especially for smaller and midsize growing companies. However, there are plenty of CRM solutions out there tailored for specific industry verticals.
It makes sense that a real estate company might have different needs than a healthcare company or a non-profit when it comes to managing customer relationships, so going with an industry-specific solution could be a good option.
Open-source CRM has also been steadily growing in popularity. Research shows that in 2019, 68 percent of CRM solutions will be cloud-based. CRM that lives in the cloud instead of an installed software platform is more affordable and flexible than ever, meaning organizations of all shapes and sizes can benefit.
Powered by automation and artificial intelligence
Automation and artificial intelligence (AI) have forever changed the way we approach sales and marketing in general and has been the driving force behind the rise in importance of CRM. It's one of many CRM and marketing trends in 2018.
Imagine trying to manually handle the mountains of data and customer behaviors that take place on- and offline today. You'd need hundreds of people and thousands of hours, and you'd still end up acting on mostly stale information because consumers move so quickly.
Automation changed the CRM game in the 90s and 2000s, first by handling the heavy lifting of business processes, then by analyzing data to provide real-time insight into customer relationships.
Today, artificial intelligence analyzes millions of customer interactions across dozens of channels and data streams. This helps to deliver rich customer insight and enables sales and marketing teams to predict customer needs. Automation then acts upon those predictions to engage leads and customers with exactly the right message at exactly the right time.
AI can enable more accurate segmentation, increased personalization, and deeper customer engagement. AI-powered CRM systems can even analyze organizational patterns to improve workflow. They can determine how marketing and sales teams use data and tools, and then automate those tasks to save time and resources.
More collaborative
The improvement in customer experience is a key benefit of CRM systems, but the organizational benefits are just as important. A best-in-class CRM enables company-wide collaboration and information sharing to deliver excellent service and to increase overall productivity.
Forrester's study notes that 50 percent of teams using CRM reported improved productivity, and respondents saw a 20 percent overall decrease in labor costs.
Today's CRM systems streamline workflows by removing data silos and providing 360-degree views of customers and prospects. Project management and deal tracking, as well as contact management and scheduling, can all be housed in a single platform, accessible across the organization.
Not only can teams collaborate on specific initiatives, but they can also leverage insight from multiple sources to enhance customer profiles and provide better service, all in a fraction of the time.
Seamlessly social
The social CRM market is on track to reach $10 billion in 2019. Which, when you think about it, is not surprising in the least.
Social media is a wonderland for sales and marketing teams who want to engage in authentic dialogue with leads and customers. It is a repository of first-party insight into not just consumer behaviors but who they are as people. Today's CRM can parse this insight and enhance customer profiles.
Of course, social media is an ocean of data that needs to be navigated, and this is where automation plays an important role in not just analyzing data but in actual engagement. Marketing messages and offers can be delivered unobtrusively in an organic way; service issues can be handled with care and a personal touch, and you can maintain a dialogue that doesn't feel like overt marketing.
Essentially, social CRM means seamlessly integrating with multiple platforms to both leverage insight and engage customers.
Learn more on CRM trends for 2019
Conclusion
When you boil it down, CRM is about making communication between customers and brands feel like communication between peers. It should be authentic, organic, personalized, and ultimately, useful to them.
According to Walker Info, by 2020, customer experience will overtake product and price as the key brand differentiator. RightNow notes that 86 percent of consumers are willing to pay up to 25 percent more for a better customer experience.
CRM is how you make that experience happen. Forrester's study showed that 74 percent of businesses report better customer relationships with a CRM in place. If your company hasn't invested in CRM yet, 2019 is the time to get on board or be left behind.
Source: www.business2community.com