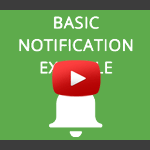 If you are new to Logic Builder, we recommend you to read a short guide on how to get started with it as a first step.
This video shows how to implement simple logic for custom notifications in SugarCRM by means of Logic Builder, a visual scripting tool.
You'll see how to create a visual script, which would send a notification to users, whenever a new comment is posted to their Acitivity in Activity Stream.