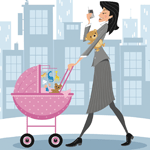 Author: Anna Petelina, Product Manager
The article implies that you have an email marketing system integrated with SugarCRM
Being on the maternity leave, I, as a mother, learn to feel and understand the needs of my child every day. However, as a mom-marketer, I must understand and respond not only to my needs and the needs of my child, but also to anticipate the needs, as well as the expectations of our clients, which will allow us to make their lives easier, and work faster, more interesting, and more efficient, in our case using SugarCRM.
A well-known fact: the best products were invented by people for themselves.
For example, do you know how Pampers came about? It was the invention of one grandfather-engineer from the company Procter & Gamble, who did not like to change the fabric diapers to his grandson. Everything comes from the natural needs of consumers and turns into specific actions of specific companies.
Integros mission is to help customers find and implement innovations that ensure sales growth. Following our vision, we used our knowledge in technologies, SugarCRM, email marketing, combined them with the needs of our customers, and transformed them into the TimeLine Viewer plugin for SugarCRM.
In this article, I will tell you how to use TimeLine Viewer to automate email marketing processes.
Email marketing at your fingertips
Our life is full of routine tasks and little everyday things, which distract us from the big picture. Among other things, everyone needs quick results. After all, one of the main advantages of email marketing is the possibility of individual communication with each client, subscriber. To do this, you need to understand: "What?", "When?", "Who?" and "How often?" to send.
Preparing of an email campaign involves a certain set of actions. You need to:
identify and collect the target audience/list
prepare the content (the goals may vary: from the call to go to the site and make a purchase or order the service to the revival of inactive loyal customers)
launch the campaign
analyze the results
We obviously want our newsletter to be personal, latest and wanted, and not to bother those contacts with whom we have an open dialogue / unresolved issue at a specific moment of communication. Given that all the customer data is inside SugarCRM, it can take a lot of time and effort for the marketing department to run a usual trigger campaign.
In this regard, we have developed two products that will allow automating these processes in a few minutes. Logic Builder – a tool to describe the logic without programming, and TimeLine Viewer – SugarCRM plugin to collect and visualize the events that are of value to you in the CRM system.
Thus, having configured the logic, the CRM system will automatically exclude a contact from the target list who already purchased your product; or who has a case with in an issue registered by the support service in your CRM system; who refused to purchase your product in any of the company-supported communication channels.
As a result, your managers will be aware of the customer's status in time, because the TimeLine Viewer dashlet, in the context of a particular CRM object or CRM objects, will display all the important events (responses to emails, registered cases, phone calls with detailed description, etc.) for your company / department / manager in a chronological order. This will allow employees to more efficiently prepare for communication with the customer and make the email campaign really personalized.
Admit, that you won't cause irritation, thus bringing positive customer experience 🙂
These are just a few of the aspects that you may need to monitor. There can be a countless number of such conditions, which can create significant difficulties in the management of mailing lists.
What if your manager receives a call from a customer with a message expressing the lack of interest? Or the sales manager did not succeed in persuading the client to order the service, which was the reason to mark the client as not relevant at this stage and stop sending proposals for a while?
All these dynamically changing conditions are easily configured by simple customization of the corresponding logic in Logic Builder, which is instantly displayed in the TimeLine Viewer in the customer / lead profile. As a result, the contact automatically leaves the target list, which makes managing this process faster and more interesting.
Conclusion
So, the automation of email marketing can significantly impact the campaign, freeing you from the need to delve into the situation every day and, perhaps, every hour. TimeLine Viewer plugin for SugarCRM is an affordable solution for those who are interested in creating automated email marketing and reducing the costs on attaining new customers.
Establish effective communication with your customers, as I do every day with my child 🙂 Good luck!
Do you want to try the TimeLine Viewer in email marketing? Send us your request and get your trial version.