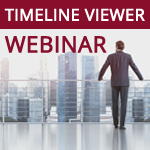 June 14, 2017 – Those who run a business are well aware that time and information are the most valuable assets. A 360° view of customer interactions allows CRM users to evaluate the situation fast and properly, that means a quicker and smarter decision-making. Integros has recently held the webinar "How to Get a 360° View of Value Adding Activities in SugarCRM". The purpose of the SugarCRM webinar was to give the answer to the typical business challenges:
What important has happened to my Accounts/Leads/Opportunities/Cases/Quotes?
How to prepare for a customer talk in 2 sec when customer is hanging on the line?
Which leads got new scores last week?
What is a yesterday progress of my sales team?
What quotes have had status changes over the last 5 days and what was the sequence?
Which cases have been reassigned to new representatives?
Do we close cases according to SLA?
…
To overcome these challenges, Integros created TimeLine Viewer, a SugarCRM plugin for extending a 360° customer view. It is our second SugarCRM webinar dedicated to TimeLine Viewer. Since last time the plugin was updated and got new helpful features:
the tool became more convenient;
teamwork and management possibilities were extended;
administration was simplified.
Watch the webinar recording to learn more about TimeLine Viewer's capabilities and find out how it can save your time, make your work more productive and easier.
Other SugarCRM webinars are available here.