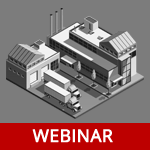 Manufacturing is now in the middle of the fourth industrial revolution or Industry 4.0 as some call it. The growing trend of using robots, automation and information technology helps to improve product lifecycle. At the same time, the Internet made the process of getting products to market easier which led to an unprecedented increase in competition. According to Deloitte, the global competitiveness of manufacturing companies in much of Europe is expected to be static at best, and in many cases, fall by 2020.
Another major challenge for modern manufacturing companies is customer data utilization. Managing huge amounts of data, especially in the omnichannel environment, can be overwhelming. For those companies searching for the ways to leverage their information, we offer a webinar-on-demand "How Manufacturing Can Get Better Aligned CRM Processes". From this SugarCRM webinar, you will find out how to stay on top of all essential events in your manufacturing business and to develop relationships with prospects and customers more efficiently:
How to manage omnichannel marketing and align marketing with sales and service
How to free up 30 minutes per day to your sales team
How to empower your service team to generate better CX
Suitable for manufacturing companies of any size and type of products.
Suitable for all supported versions of all editions – Sugar Cloud and On-Premise.
Watch the Webinar