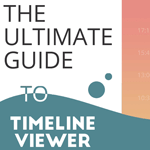 Every day lots of events and changes take place in the CRM system. Sending or receiving emails, making phone calls, creating new notes, holding meetings, registering cases, creating new leads, changing data in the Accounts… the list goes on and on. To be efficient, CRM users have to stay on top of all these events, be able to quickly review the latest data in the portfolio of Accounts/Contacts/Leads and promptly discuss the necessary information with their colleagues. For this purpose, we created TimeLine Viewer, a plug-in for Sugar, which allows you to view all key business events on a convenient timeline in a few clicks.
Here is a list of what the plugin can:
Assess all changes in the CRM data over this day/ the previous day/week
Assess changes in a specific portfolio of Accounts/ Leads/Opportunities/Cases
Assess changes by a specific object of Account/ Lead/Opportunity/Case
Assess changes by all objects in Target List/s (Accounts + Leads + Contacts)
See CRM data changes in other systems
Find out what was done and by whom over the period
See what objects are left unattended
Discuss with a team or see the discussion history of any event
Moreover, it provides the incredibly flexible possibilities for filtering events by various parameters, managing their look and content, as well as mobile responsive design. Combine all this, and you will be able to evaluate the ability of the tool to save your time, improve usability and productivity. Most importantly, you won't lose sight of any significant event. This means you will be able to provide a more complete and seamless customer experience, which is the main goal of any CRM system.
TimeLine Viewer solves many business challenges and here are just a few of them:
How to Save Time When Preparing for Communication with a Customer
How to Boost the Efficiency of Portfolio Management
How to Enhance the Efficiency of Manager's Work
How to Improve Team Selling
How to Create Reports to Quickly Figure Out What Happened
How to Find Customers or Leads That Received Insufficient Attention
How to Optimize Work on Mobile
How to Make Your Sales Team Truly Mobile and Literally Move CRM Data at Their Fingertips
How to Enhance Productivity of Every CRM User with Minimum Effort and Maximum Results
How to Empower Sales Management
How to Stay on Top of Everything
Etc.
To learn more how TimeLine Viewer is able to improve your everyday work, download the guide :
Download the Guide