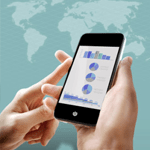 CUPERTINO, Calif.– April 5, 2017 – SugarCRM Inc., the company that enables businesses to create extraordinary customer relationships with the most empowering, adaptable and affordable CRM solution on the market, today announced a number of new features to Sugar Mobile, its industry-leading app for smartphone and tablet CRM users.
Thanks to the mobile revolution, the physical boundaries of the workplace have disappeared. Perhaps no other career is primed to take advantage of mobility more than the sales professional.
In fact, in the last year, daily usage among Sugar Mobile users has nearly tripled. However mobile CRM, as yet, hasn't lived up to its potential. It's been confusing and difficult to use, often crammed with hundreds of features that are never used.
"The CRM industry is still at an early stage for comprehensive mobile solutions," said Rich Green, chief product officer at SugarCRM. "At SugarCRM, where we are driven by a 'mobile first' strategy, we expect to see entire sales teams access CRM strictly on mobile. With that in mind, SugarCRM continues to push the envelope with mobile technology and we've made a number of significant enhancements to our offering to take it from 'CRM you take with you' to an indispensable tool that never leaves your side."
SugarCRM has built the most extensible, secure mobile platform that allows its customers to transform their business. New features introduced today in Sugar Mobile 5.0 include:
Redefined User Experience – The new version of SugarCRM's mobile app introduces a redesigned user experience based on customer feedback, with improved navigation and re-ordered tabs and elements. We reduced the number of clicks needed to reach critical CRM data.
Support for Apple Touch ID – Sugar Mobile 5.0 also now supports Apple Touch ID. Touch ID is one of the most secure ways to authenticate users within iOS apps, making the login experience more convenient and user-friendly.
Customization – Through the new Sugar MACS service, customers can add their own company name and logo, and select the color they want to display in the background of the login, splash, and loading screens. No coding is required and with a few simple clicks, administrators can generate a custom app that supports the organization's branding, look and feel.
Enterprise Mobile Management (EMM) – Enterprises now have a better, more secure way to distribute and manage the SugarCRM mobile app with EMM support. By using "app wrapping", Sugar administrators can control who gets access to the SugarCRM Mobile app and when. Sugar Mobile 5.0 also includes the AppConfig standard, which makes it easier for administrators to manage the app using Enterprise Mobile Management (EMM) solutions.
Deep Linking – Deep Linking allows links to be created that push a user directly into a record or page in SugarCRM Mobile. Mobile deep links mean the user can click on a link and it will launch the SugarCRM Mobile app. Deep linking can be used to perform many tasks, including viewing, creating, and editing records.
Sugar Mobile is available for all Sugar Professional, Enterprise and Ultimate customers. It features "offline storage mode" so users can be productive even when they aren't connected to Wi-Fi. All existing installations of SugarCRM Mobile will be upgraded to Sugar Mobile 5.0 through the phone or tablet's native upgrade functionality. Alternatively, upgrades can be performed by searching for "SugarCRM Mobile" in the application stores of your device or using the following links:
Get SugarAide – Powerful Mobile App for Sugar
Source:
sugarcrm.com