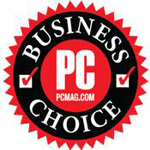 Strongly preferred by PC Mag readers for the third year in a row, SugarCRM was praised for overall satisfaction, likelihood to be recommended, Net Promoter score and reliability
CUPERTINO, CA — June 30, 2017 – SugarCRM Inc., the company that enables businesses to create extraordinary customer relationships with the most empowering, adaptable and affordable CRM solution on the market, announced today it has been named the Best CRM Service by PC Magazine readers in the publication's annual business choice awards. SugarCRM received overwhelmingly positive scores for overall satisfaction, likelihood to be recommended, Net Promoter Score, reliability and technical support, leaving all other CRM vendors in the survey (236 in total) far behind.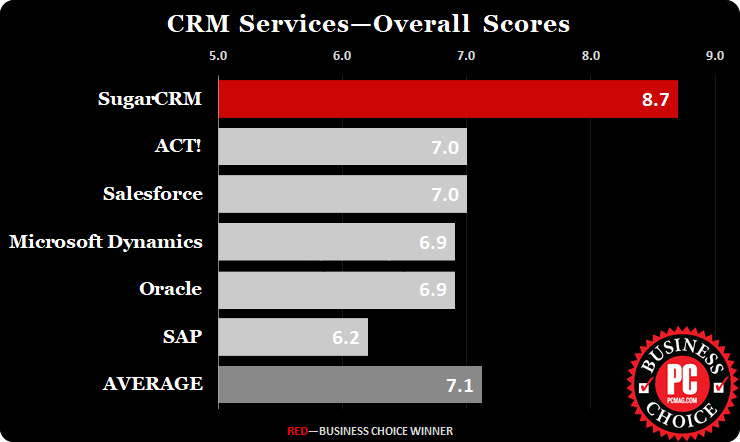 As the winner of the 2017 CRM award, Sugar earned top scores in all but one category (which is whether a user needed tech support). In the graph above you'll see overall satisfaction scores that show SugarCRM's striking ranking of 8.7 (out of 10, and with an increase over 7.6 from last year's).
In addition to overall satisfaction, PCMag asked their survey respondents a few key questions regarding their CRM, such as:
"How reliable is your CRM system?" (Ranking 1-10)
"How likely are you to recommend your CRM solution to a colleague?" (Ranking 1-10)
"Have you ever required tech support?" (Yes/ no)
"How satisfied were you with the tech support you received?" (Ranking 1-10)
Sugar received scores of 9.0, 8.8, 56%, and 8.6 respectively.
Learn how businesses benefit from Sugar
In recapping the finalists, PC Magazine's Matthew Sarrel wrote, "SugarCRM is definitely doing something right at its Cupertino headquarters. The web-based customer relationship management tool it provides saw score increases in all areas since last year, with only the stumbling block of over half its users needing tech support. But Sugar customers even thought the tech support was aces. For reliability, help, and collegial recommendations, no one in CRM does better than Sugar."
PC Magazine readers nominated more than 200 CRM providers, of which six received enough votes to be listed as finalists. The publication's survey asked respondents to rate their overall satisfaction, reliability and tech support experience with the CRM service they use, plus the likelihood they would recommend it to others.
"At SugarCRM, we have made a concerted effort to focus on the core CRM features that help people build better business relationships," said Clint Oram, co-founder and CMO at SugarCRM. "Our scores over the last three years for PC Mag's Business Choice awards are particularly gratifying because they demonstrate what we are doing is resonating with the industry, and the enthusiasm and satisfaction that CRM users have for Sugar."
For a complete view of the results of the survey and PC Magazine's methodology, click here.
Source: sugarcrm.com