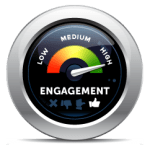 SugarCRM Chief Marketing Officer, Jennifer Stagnaro, gives an interview to CMO.com. Jennifer tells about great possibilities for modern marketers, uncovers secrets of efficient customer engagement, points out the biggest marketing mistakes and gives the amusing examples from her personal experience.
This is a must-read article for those marketers who want to keep up with the times.
CMO interview: The secret to driving customer engagement
Global marketing head of SugarCRM claims too many organisations invest in customer journey mapping but aren't acting holistic digitally
Leveraging deeper customer insights to drive personalised experiences requires more than simply customer journey mapping, according to SugarCRM CMO, Jennifer Stagnaro.
"Customer journey mapping techniques have been around for quite some time, predominantly in consumer businesses, and there's a great interest in using those techniques to better understand the customer," she told CMO. "Everyone does a customer journey map, but how many actually get any value out of having gone through that exercise?"
Where companies are falling short is practical ways that take those insights and actually deploy them in their business to improve customer engagement, Stagnaro claimed.
"We're seeing people investing a lot of time and energy in all these big studies and documenting it all, and it looks pretty and you put it on the shelf, but people don't know how to take those insights and make them actionable in order to change how they're actually interacting with their customers," she added.
A study by Forrester released in June this year, Modernise your CRM in six steps, further backed up Stagnaro's argument. The report found successful CRM is not only about features and functions or internal efficiencies, but about better serving and supporting customers during their engagement journey. It stressed too many CRM initiatives fail because they focus on siloed, internal strategies within the marketing, sales or support organisation.
As a result, CRM efforts miss key moments that matter to customers. In contrast, forward-thinking companies start by articulating their customer experience strategy in their customers' terms, which then guides investments.
"Businesses of all kinds now are really investing heavily in how they make sure they're putting in place digital transformation strategies that keep them ahead – and it all really centres on the customer," Stagnaro said. "Businesses from financial services to retail to consumer package goods companies are really re-imagining how they support their customers on their journey.
"Uber is a really good example of a startup company that has completely taken over traditional business of transportation and taxis, and put a mainstream business on its rear."
Stagnaro claimed Australian businesses are not doing enough and not being agile enough to make the changes necessary.
"Where they're falling down is that they're investing in these techniques, but they don't know how to turn them into action," she said. "The biggest gap we're trying to close with our clients is how to turn those customer journey exercises into real actionable processes to be able to support your customer better."
As an example, Stagnaro pointed to one of SugarCRM's clients, a sporting goods retailer in Latin America, selling all major global brands of sporting clothing and gear.
"The company has a bunch of retail outlets and realised it wasn't effectively engaging with their customer, and admitted it didn't even know who those customers were," she said.
In order to gain deeper customer insights and serve customers better, Stagnaro said the retailer implemented the SugarCRM solution and started to provide loyalty cards, while using a combination of digital channels to learn more about customers.
"Loyalty cards were used to gain data from customers like email, mobile phone and basic contact information, but activities went way beyond that," she said. "Customers gave them their mobile phone number so they could get an SMS text the night before their exclusive 'marathon sale days,' telling them the event was the following day."
Stagnaro claimed the resulting engagement and increased visitors to the store was so high the retailer had four-hour checkout lines in the store. To leverage the overwhelming response, it created a mobile-friendly soccer game to keep customers engaged while waiting in line, which would collect information about what their favourite sporting team was while enticing them to win a prize.
"The game had insights into the actual store to ensure it had the stock so the winners could walk away with the prize on the day," she explained. "It's a perfect example of a company coming up with very creative ways of interacting with the customer… using all these different channels and ways of really understanding who the customer was and seeing tremendous results. In fact, average sale in the business increased by over 200 per cent. It was all about knowing the customer preferences and getting to them in the right manner."
Stagnaro agreed we now live in the age of connected customer that demands engagement with your brand whenever and wherever they want.
"The key as a business is to make sure that no matter how they are interacting with you, you know who that customer is and you give them a personalised experience," she said. "Too often what I see when we deal with businesses all around the globe is they will come up with technical solutions that are in silos. So they will get a piece of software that interacts with a person on social media, or a marketing automation system where they interact and measure cost per clicks and everything through their digital marketing channels. But they're often disconnected from who their customer is.
"The real impact comes when you can knit together those different channels into a holistic view of the customer, so you can start to do intelligent things in terms of the offers and the way you are proactively communicating with them, so that you're solving their problems and giving them things that they want and care about."
Stagnaro said the "dark age of marketing" is now well and truly over, when marketers would send something out in the mail or through broadcast media and there wouldn't be any way of measuring what the result would be.
"Now, it's the best time to be a marketer," she said. "And with all these digital channels, you can get that real time feedback and really understand what's working and what's not. The challenge is making sure you doing the right things and bringing it all together."
Implement SugarCRM to drive customer engagement
Author: Azadeh Williams
Resource: cmo.com.au