Online marketing is growing rapidly providing marketers with new opportunities and posing new challenges at the same time. To keep their heads above water, marketing managers should be aware of the most effective tactics and apply them in their work. This especially true for B2B segment where customer journey is longer and more complicated. Here is the research on the biggest challenges B2B marketers are encountering and techniques that help face them.
Lead Generation Poses Biggest Challenge for B2Bs
Business-to-business (B2B) companies are constantly searching for new client prospects that can benefit from their services. As a result, lead generation has proven one of the most critical and challenging B2B pursuits. BtoB Magazine surveyed US B2B marketers and found that in 2013, generating more leads remained their top challenge, cited by 60% of respondents. That was followed by the related challenge of successfully reaching their target audience.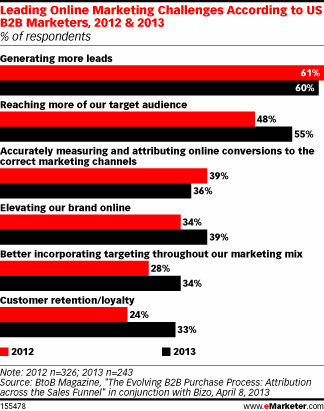 Building brand awareness and accurately measuring performance were also important challenges to nearly two out of five B2B marketers. Customer retention went up as a leading online marketing challenge, cited by one-quarter of marketers in 2012 and one-third in 2013.
When it comes to measuring leads, the greatest percentage (42%) of B2Bs used multichannel attribution, giving weight to various marketing channels that helped generate a conversion. A notable one-third of B2B marketers did not actually bother tracking where their leads came from; if B2Bs are not doing a good job of evaluating where and how they find and pursue their best leads, this could play a role in the difficulty some have generating leads.
In terms of what lead gen tactics worked best, Ascend2 surveyed marketing professionals around the world in April and found that for B2Bs, email marketing was by far the most effective marketing technique. Search engine optimization (SEO) and content marketing tied for second place. Almost no B2B marketers saw mobile marketing as effective.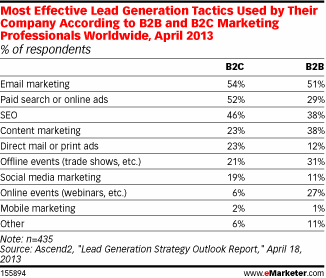 Where B2Bs struggled was in utilizing social media marketing for lead gen purposes. Nearly half said this was one of the most difficult strategies to execute. Content marketing came in second, yet further evidence of the stock B2Bs put in this tactic—but the challenge they face putting out enough quality material.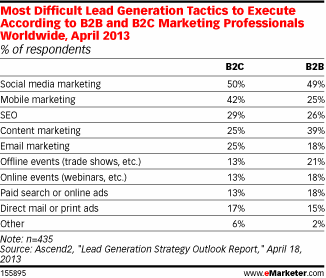 The primary objective of lead generation among B2Bs was improving the quality of leads, cited by 58% of respondents, followed by converting more leads to customers, at 55%. A lesser 42% cared most about getting more leads, showing that for B2Bs, targeting the right people and companies is more important than getting as many prospect names as possible.
Resource: www.emarketer.com