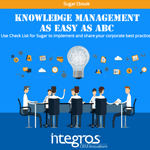 Any company is likely to face a number of problems when a new employee joins a team or when the common order of work changes. Both situations require effective knowledge sharing so as to ensure that best corporate practices, accumulated during the operation of the company, are not lost and can be applied in the daily work.
Needless to say, the complexity of knowledge management increases with that of the company structure. What makes matters worse, employees often do not know in advance the right order and number of activities to be performed. Due to constant shortage of time, the matter becomes even more topical.
Obviously, businesses need a tool that will ensure effective knowledge management within a company in the shortest time period possible. It may sound rather unrealistic but there is a way out.
Integros developed Check List, a SugarCRM plugin to solve such problems. Using it, users will finally be able to implement and share best practices without losing much of valuable time or efficiency.
To put it simple, Check List is a list of steps to be performed connected with Leads, Opportunities or Cases that help you keep your knowledge management on point. This SugarCRM plugin allows you to easily get rid of all the inconveniences you have previously experienced.
What you need to do is just define a list of steps, according to your specific best practices, and configure it in SugarCRM. You need not worry about any additional actions. The system will do them automatically.
To learn more how to make your knowledge management as easy as ABC with Check List, download our SugarCRM ebook.
Download Ebook