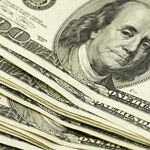 How has the digital revolution affected the finance industry and how does that influence customer experience?
Not too long ago professionals in financial services built relationships — and created a positive experience — by meeting the customer in person for coffee or lunch. The customer would then gain confidence in the professional's knowledge and professionals in their turn would gain the ability to anticipate and address customers' needs.
Today, the financial services landscape has changed, and it is all about "digital." Digital technologies have revolutionized the way banks and financial institutions communicate with customers. Sending a letter to a client does not work in today's world; businesses can no longer rely only on email or the phone.
In fact, a recent Frost and Sullivan report shows almost one-half of financial services customers use three or more communications channels in a year. Whether it is an instant message, mobile applications, websites or social media, customers now have multiple channels at their disposal and they expect real-time communications and personalized customer experiences.
Digital capabilities have reduced the amount of barriers and required effort for customers to switch, so they switch. This has readdressed the balance of power in favor of the customer; they are now empowered to demand the highest quality of service, irrespective of the time or place.
However, there is a digital downside. The digital revolution makes communications significantly more complex for banks, credit unions and other financial services institutions. It means that financial companies now have a double challenge: growing their customer base in the first place, and then finding the correct solutions to meet the needs of their current customers who are more educated and connected than ever before.
How can a CRM system help businesses meet the needs of the empowered customer and enhance the customer experience?
The answer lies within the customer journey. Align your business operations with the average customer life cycle. Start by identifying how a customer typically makes a purchase and examine the customer life cycle and interactions with the company. This will help you learn where your company fails to meet customer needs. Eventually it will turn into a best practice you can use as a company-wide resource.
However, embracing the digital age does not mean discarding human interaction. You still have to talk to your customers: it just needs to be relevant.
Maximize the potential of your digital technology with qualified staff and the right tools at their disposal. With customers engaging with businesses across multiple channels, each provides a different kind of interaction and a piece of a customer's history. Businesses must make sure they are capturing all the relevant information that is available across these platforms. By doing so, customer-service teams can have all the information they need at their fingertips to build a complete picture of the situation and the customer they are dealing with.
Conclusion
As it seems, the theme that unites all these notable happenings in 2016 and beyond is the customer. With the introduction of the new measures, meeting customer expectations, will require total commitment and focus from businesses. As technology continues to evolve, it will undoubtedly help to shape the relationship that banks and other financial institutions have with their customers; the right systems will allow businesses to have the best possible information about their customers in the right hands at the right moment.
Having the correct processes and systems in place will put companies in a position to attract and retain customers in this new digital world.
Read 10 Industry Forecasts by Financial Experts
Based on the materials from bai.org, finextra.com and financialit.net