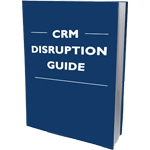 New digital technologies emerging from mobile, social, and big data are changing how your customers expect to interact with your company. Even if you are the best in your industry, consumers are no longer comparing you with similar businesses, but comparing you across all industries, raising the bar across the board. How can you create a better customer experience when you are using the same, uninspired CRM system as your competitors?
Customer experience is still king
The landscape of digital technologies is expanding at an exponential rate. The 2016 ChiefMartec marketing technology landscape now has over 3,800 different software products listed on it, and growing every year. So how you do you bring order to this chaos? The answer is to focus on the fundamentals of business. Every business exists to meet the needs of a customer or stakeholder; solving some problem, or addressing some want or need.
Any business that is effective not only at meeting that need but delivering it in an easy and enjoyable way, is going to be more successful than one that is much harder to deal with. Ultimately, the continual improvement of customer experience becomes the North Star, the guiding light, that sets the direction for the growth of the business into the future.
A single view of the customer starts with CRM
Of those 3000+ software products involved in delivering customer experience, which system should hold the customer data? Modern Customer Relationship Management (CRM) systems are designed from the ground up to capture and manage all sorts of different information about customers, and provide a central place to consolidate data and provide a Single View of the Customer.
This makes the CRM systems the ideal hub around which to integrate technologies, and orchestrate the movement of data to provide continuous customer experience, regardless of what channel or what tool is involved in delivering that experience.
CRM and the human channels of interaction
As more and more of the customer journey is supported by digital channels, interactions with real people are increasingly reserved for the very most important interactions in the journey. There are some tasks for which there is no substitute for talking to another human being.
While there are special tools to manage social media, manage websites and automate email marketing, CRM is the special tool for managing these critically important human channels of interaction.
Build a competitive customer experience with a different kind of CRM
CRM is the system that underpins and pulls together CX across all channels at every stage of customer journey. How can you create a better customer experience when you are using the same, uninspired CRM system as your competitors?
Compared to the major competitors, SugarCRM is solely focused on making every customer relationship extraordinary. Sugar empowers individuals with best-in-class UX and consistent mobile and desktop experiences. Deploy it how you want while enjoying easy integration across global applications and data sources. And Sugar is the most affordable solution there is to buy, customize and manage.
Download CRM Discruption Guide
Source:
info.sugarcrm.com