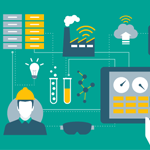 Nowadays manufacturers are under competition, price, and disruption pressures and their list of needs would look like this:
• Better manage dealer networks & make them more effective
• Better manage supply chains & make them more efficient
• Anticipate customer needs & changes
• Proactively manage customer accounts
• Forecast demand effectively
• Maximize sales coverage in every territory
In an optimally designed value chain for a manufacturing organization, the flow is bi-directional. While manufacturing must provide the right products in the right quantities at the right time for sales to sell, it is equally important for sales to forecast and inform manufacturing operations which products need to be manufactured, in what quantities and by when. The timing and accuracy of this demand forecast data forms the cornerstone for optimizing inventories and raw materials, and supply chain management.
When the supply chain is complex and you are bound to track lots of orders and projects, having business-wide processes and using automation can eliminate errors and save time and cost. CRM is built for this. And when it's integrated in real time with other applications like finance and email, nothing should slip through the cracks.
This guide contains the insights of top industry experts and forward-thinking business leaders about the challenges of traditional CRM deployments and the keys to a successful implementation. This e-book cites the questions to ask when evaluating solutions and some tips for getting started on the path to modern, game-changing CRM.
Download guide
Discuss non-standard CRM implementation