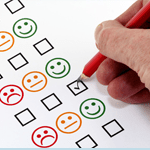 "Unless you have 100% customer satisfaction… you must improve" – Horst Schulze.
Great words to follow if you strive for excellent customer experience. Still, everybody who wants to become a customer expert should also know that customer journey has changed and that could not but influence approaches to interaction with prospects.
How does the modern customer journey looks like and how should marketers act to keep up with it? Find out here.
Taking Customer Satisfaction to the Next Level
Customers today are more educated and connected than ever before. Endless choices, and unrestricted access to information, combined with plummeting customer satisfaction levels across the board mean it's harder than ever for brands to stand out for the right reasons. So how can brands and marketers contribute to a customer-centric organization in order to attract and retain more customers?
While this may sound like a hard task, the following five steps will get you on the right road:
1. Map the Customer Journey
Brands and their marketing departments need to map the customer journey and decision-making process – from awareness and consideration, to selection and purchase, satisfaction, retention, and advocacy.
This can be used to identify and better meet the needs of customers at each stage. It also empowers businesses to identify how a customer typically goes about making a purchase decision and helps identify internal gaps where customer expectations aren't being met.
In order to get a truly inclusive and honest view of the customer journey, taking time to conduct surveys, and holding customer interviews to capture the voice of the customer can provide key insights in building a journey map.
2. Find the Gaps
Now it's time to start aligning how the customer thinks with how the organization is structured. All communication and interactions with customers, including digital marketing approaches, should be complementary to the customers' thought processes. In doing so, gaps may be uncovered, where customers' expectations differ from how the organization is built to serve them. And, it's easier to fix problems once it's clear that it has a direct impact on customer experience.
This can be particularly helpful for B2B buying cycles, where more than one decision-maker is involved, but less tools are available with the flexibility to understand and incorporate the wider group of people involved in closing, and delivering on a successful sales opportunity. For example – significant time gaps can result between the completed purchase and the actual receipt of a product or service, due to the likes of poor post-sales communication with service delivery teams.
3. Create a Total Customer View
With different departments typically utilizing different software tools, data sources and repositories to manage their portion of the customer lifecycle, it's no surprise that organizations struggle to generate a single customer view. While each tool serves a critical purpose, they usually retain the data in their siloed systems. Think how much better marketing and sales teams alone could collaborate if they shared all their customer information, in the right format and at the right time, within one tool.
For example, although B2B sales teams receive leads from marketing automation systems, they may only get the name, company and contact information of a lead, without any background on how the prospect passed through the 'awareness' phase of their journey. As a result, the sales rep is at a disadvantage and the value of the marketing data available is not fully realized.
Organizations need to share a complete and inclusive view of the customer with every customer-facing employee, in order for critical insights to be achieved at every stage of the customer journey.
4. Build Bridges with Automated Processes
It's just as important to create well-defined frameworks for helping customers along their journey. Organizations need to define and deploy solid process automation for customers and the internal employees to help them along the journey.
A key part of this is to ensure that the data and identity of the customer can be retained as they jump from one stage of the customer journey to the next. And with multiple touch-points and internal systems being involved, this can seem like an arduous task.
The key is to think beyond the silos of departments and individual technology systems. Applying a wider perspective when mapping and automating the customer journey enables more information and insights to be gathered, while also providing a more consistent and satisfying experience to customers with every engagement.
5. Analyze and Optimize
The customer journey is always changing, and the ability to differentiate through exceptional service depends on the ability to quickly address those changes. A truly holistic view of the customer provides insight into how customers want to engage, and how the organization can meet their needs. And, if the data is already centralized, then collecting and analyzing it is a far easier task.
Moreover, with an overarching strategy for customer processes, incremental changes become easier and tweaking models to best serve the customer can be a far simpler task.
Just don't forget that this is an ongoing process. Continually ask customers for feedback, and use it to improve processes and systems. In doing this, not only marketing functions, but the entire organization can align with the customer journey and differentiate itself in the market at the same time.
By the way, SugarCRM became the first CRM software provider to fuse Customer Journey Mapping with CRM to close the gap between understanding customers and taking the actions that make customer relationships extraordinary.
Learn more about SugarCRM
Author: Daniel Heck, Senior Director of Marketing, EMEA at SugarCRM
Resource: digitalmarketingmagazine.co.uk